Hey guys. I had a few photos taken at the anime con I went to two weeks ago. This persona was inspired by Kay (
) and I plan on developing this character. For now, enjoy.
http://s743.photobucket.com/albums/xx72/RavenALightshadow/LCAD%20Photoshoot/
My favorite is this one: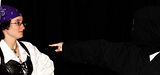 That is my twin sister dressed up as a Ninja. Pirates are better, btw!